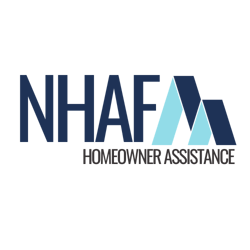 NEBRASKA HOMEOWNER ASSISTANCE FUND (NHAF)
The Nebraska Homeowner Assistance Fund is Now Open
The Nebraska Homeowner Assistance Fund (NHAF) is now accepting applications. If you have experienced a financial hardship as a result of the COVID-19 pandemic and need mortgage or property-related financial assistance, please apply as soon as possible. Funds will be distributed until they run out, and they do not need to be paid back.

*Income Limits Apply: visit NebraskaHAF.com to view the income limits per county
Background of NHAF
In the American Rescue Plan Act of 2021 Congress provided funds through the US Treasury's Homeownership Assistance Fund to prevent foreclosures and assist American homeowners.
Each state must submit a Homeowner Assistance Fund (HAF) Plan to Treasury for approval.
2021 Proactive Meetings
July 15: Public Focus Group
July 23: Public Focus Group
Aug 17: Public Hearing
Aug 31: Networking with NIFA: A Conversation About Homeowner Assistance
Public Survey - View Results

Basic Criteria
The NHAF is available to help Nebraska homeowners who have experienced or continue to experience a financial hardship associated with the coronavirus pandemic after January 21, 2020 and was established for the purpose of preventing homeowner mortgage delinquencies, defaults, foreclosures, and displacement of homeowners.
In addition, the NHAF may assist with resolving property title issues to ensure a homeowner has marketable title to their property. Homeowners must qualify under the NHAF income limits and will be required to provide certain documentation to support the application.
Income Limits
The NHAF will assist homeowner households whose combined income is at or below 100% of Area Median Income (AMI).
If excess funds remain after serving households in this income category, the NHAF Plan may be revised and allow for income limits up to 150% of the Area Median Income. View Income Limits
Documents Needed
At this time, the following documentation is required:
- Valid form of photo identification (such as driver's license)

- Mortgage loan statement (your servicer, loan number and other information)

- Primary residence verification (such as recent utility or phone bill)

- Income verification documentation, such as most recent pay stubs or tax return

- Other documents to satisfy applicable NHAF requirements